Having worked in dynamic and fast-paced environments, I understand the critical importance of choosing the right tools to streamline product development processes and enhance team collaboration. In this detailed review, I will delve into the key features of Roadmunk, assess its usability, integration capabilities, and overall effectiveness in facilitating strategic product planning. I'll also lay out all the critical information on Roadmunk's capabilities and interface to help you determine if it's the right software for your team.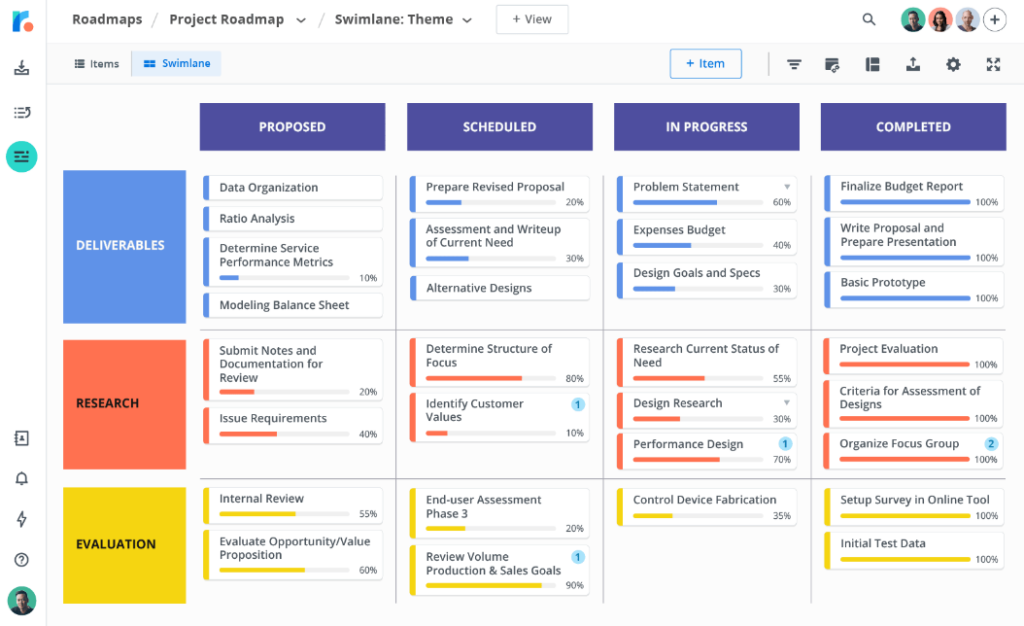 Roadmunk Product Overview
Roadmunk is a cloud-based product roadmap software designed to empower product managers and teams to visualize, communicate, and manage their product development strategies effectively. The tool excels in providing a clear and visual strategic roadmap that aids in aligning cross-functional teams and stakeholders toward common goals. The platform facilitates incorporating customer feedback directly into the roadmap, allowing companies to pivot quickly and stay aligned with end-user needs.
Two features that deserve attention are its drag-and-drop roadmap builder and scenario planning capabilities. The drag-and-drop interface makes it exceptionally easy to create and modify roadmaps, allowing you to swiftly adjust project timelines, milestones, and dependencies. This feature enhances flexibility and adaptability, crucial in the dynamic landscape of product development.
Additionally, Roadmunk's scenario planning functionality enables you to create and compare multiple what-if scenarios. This helps you anticipate potential challenges, evaluate different strategies, and make informed decisions to optimize your product development approach.
Pros
Visualization: Roadmunk excels in presenting complex strategic plans visually, which simplifies understanding and communication for teams and stakeholders.
Feedback Integration: The software streamlines the collection and incorporation of team input directly into the roadmap, ensuring that all voices are heard and considered.
Flexibility: Customizable roadmap templates allow users to tailor their strategic views to suit varied presentation needs and planning styles.
Cons
Learning Curve: Some users might find Roadmunk's array of features daunting, leading to a steeper learning curve.
Advanced Features: While robust, it may lack some of the more advanced features seen in specialized project management tools.
Integration Limitations: Integration with other tools can be limited, which may require manual workarounds for some teams.
Expert Opinion
In my view, Roadmunk strikes a fine balance between functionality and usability. It doesn't overwhelm with excessive features, focusing instead on core needs like strategic visualization and feedback integration, which it executes well. Comparing it to other product management software, Roadmunk certainly holds its own, especially when it comes to user interface design and the clarity it brings to complex planning processes.
However, when stacked against platforms with broader product management functions, it can sometimes fall short. It shines in environments where visual planning and stakeholder alignment are paramount, making it a solid choice for mid-sized teams and companies that value straightforward strategic planning tools.
Roadmunk: The Bottom Line
Roadmunk stands out for its clean, intuitive visual roadmapping capabilities that cater specifically to the strategic planning process. Its particular strength lies in its ability to foster collaboration through shared roadmaps and feedback loops, a feature not all competitors can boast. The platform's commitment to offering various views and customizable templates also distinguishes it, allowing users to shape their roadmaps to different audiences effortlessly. These facets combine to make Roadmunk a noteworthy tool for those seeking clarity and collaboration in their product management processes.
Roadmunk Deep Dive
Product Specifications
Project Planning - Yes
Task Management - No
Milestone Tracking - Yes
Resource Allocation - No
Budget Management - No
Time Tracking - No
Document Storage - No
Collaboration Tools - Yes
Reporting/Analytics - Yes
Roadmap Creation - Yes
Feedback Management - Yes
Prioritization - Yes
Customizable Templates - Yes
User Story Mapping - No
Agile Methodologies Support - No
Issue Tracking - No
Product Lifecycle Management - Yes
Workflow Configuration - Yes
Access Controls/Permissions - Yes
Integration APIs - Yes
Third-Party Integrations - Yes
Mobile Access - No
Scrum Support - No
Kanban Board - No
Gantt Charts - No
Roadmunk Feature Overview
Roadmap Creation: Roadmunk's roadmap creation feature allows for detailed visualizations of project trajectories, making it easier to share the vision with team members and stakeholders. The drag-and-drop interface simplifies complex planning.
Prioritization: Users can set priorities for tasks within the roadmaps, ensuring that teams focus on what matters most. This helps in aligning resources and efforts towards strategic goals.
Reporting/Analytics: Roadmunk offers reporting tools that give insights into the progress of projects and help in making data-driven decisions, setting it apart from tools with less robust analytics capabilities.
Workflow Configuration: The ability to configure workflows allows teams to define stages of their product development process, facilitating a more structured and efficient progression from conception to launch.
Access Controls/Permissions: Roadmunk provides fine-grained access control, which ensures that sensitive information is only accessible to authorized personnel, enhancing security and collaboration.
Integration APIs: Roadmunk's APIs facilitate integration with other tools, allowing teams to connect and automate their workflows across different platforms.
Third-Party Integrations: The software's integrations with popular tools like Jira and Slack allow for the synchronization of data and communication across different platforms used by product teams.
Product Lifecycle Management: By managing the entire product lifecycle within Roadmunk, teams can ensure that they are on track with their product strategy and make adjustments as needed based on real-time insights.
Standout Functionality
Visualization and Roadmapping: Roadmunk's standout functionality lies in its visualization capabilities. The tool allows users to create beautiful, easy-to-understand roadmaps that can be tailored for different stakeholder views, which is not as comprehensive as other tools.
Feedback Loop Integration: Unlike many product management tools that treat feedback as a separate component, Roadmunk integrates this directly into the roadmapping process, ensuring that decision-making is influenced by comprehensive stakeholder insights.
Customizable Templates and Views: Roadmunk provides a level of customization in templates and views that is superior to many competitors, allowing for various detailed and high-level roadmaps from the same data set.
Integrations
Roadmunk offers native integrations with platforms like Jira and Slack, which allow for real-time updates and communication enhancements. Users can push and pull data from these applications to keep all team members aligned. It also provides an API, enabling further customization and integration with other tools and systems. Add-ons are available to extend the platform's capabilities, allowing you to tailor Roadmunk to unique workflow needs.
Roadmunk Pricing
Roadmunk offers their product across four paid plan tiers and offers an add-on for reviewers.
Starter: This plan starts at $19 /month and it is for one person only. It includes 3 reviewer accounts, unlimited roadmaps, and the ability to incorporate feedback into your roadmaps.
Business: This plan starts at $49 /editor/month and is a significant upgrade from the starter version. I say this because you unlock portfolio roadmaps, API access tokens for custom integrations and upgrade from one-way sync with pre-built integrations to a two-way sync.
Professional: This next plan starts at $99 /editor/month and includes customized training and support for your team, plus single sign-on as a security feature.
Enterprise: The top tier is priced according to your needs, so you'll need to contact them to know how much. However, it gives you access to a private cloud to host your instance, advanced customization features and custom terms and conditions.
Every plan limits the number of reviewer accounts you can use. However, their add-on makes sure you can add as many reviewers as you need for $5 per additional reviewer.
Ease of Use
From my perspective, Roadmunk presents a user interface that is clean and user-friendly, with an emphasis on visual roadmaps. However, with its multitude of features, there could be a learning curve for new users, especially those not familiar with strategic planning tools. The onboarding process is comprehensive, though, aiding new users in navigation and organization within the tool.
Customer Support
In assessing Roadmunk's customer support, the company offers a range of resources, including documentation, webinars, and a responsive live chat service. Some users might find the lack of 24/7 support frustrating or may encounter slower response times during peak periods. However, the overall quality of the support provided is generally seen as helpful and informative.
Roadmunk Use Case
Who Would Be A Good Fit For Roadmunk?
Roadmunk would resonate well with mid-size to large enterprises that require a sophisticated approach to product planning and roadmapping. The tool is a match for teams and companies with a strategic focus, where visual communication and stakeholder feedback play a crucial role in product development. From my experience, the most loyal and avid customers tend to be product managers, strategists, and planning teams who value the clarity of visual roadmaps integrated with feedback loops.
Industries like technology, software development, and enterprises with complex product structures find particular value in Roadmunk. It suits environments where collaboration across multiple departments is necessary, and thus it aligns with team sizes that are large enough to encompass diverse functions yet need to stay interconnected.
Who Would Be A Bad Fit For Roadmunk?
Small startups or teams that require more task-oriented, day-to-day project management tools might find Roadmunk overwhelming. Companies looking for an all-in-one project management solution that includes task assignments, time tracking, and budget management might be disappointed, as Roadmunk focuses primarily on high-level strategic planning.
Industries that have no need for product roadmaps or prioritize agile methodologies like Scrum or Kanban over strategic planning might not find Roadmunk's features relevant. Solo entrepreneurs or small teams might also find the cost and breadth of features unnecessary for their operations.
Roadmunk FAQs
What is Roadmunk?
Roadmunk is a product management and roadmapping tool designed to help teams create, manage, and share their strategic plans.
Can Roadmunk integrate with other tools?
Yes, Roadmunk integrates with several third-party tools including Jira and Slack, and offers an API for further integration.
Does Roadmunk support Agile methodologies?
Roadmunk is not specifically designed for Agile methodologies like Scrum or Kanban but focuses on strategic planning and roadmapping.
Is there a free version of Roadmunk?
For the most accurate information on pricing and plans, contacting Roadmunk directly is recommended.
Can Roadmunk be used for task management?
No, Roadmunk is not a task management tool; it is more suited for high-level product strategy and roadmap visualization.
Who typically uses Roadmunk?
Roadmunk is typically used by product managers, strategists, and planning teams in mid to large-sized organizations.
Does Roadmunk offer collaboration features?
Yes, Roadmunk includes collaboration tools that allow for team feedback and shared roadmaps.
Is Roadmunk mobile-friendly?
Roadmunk does not offer a dedicated mobile application but can be accessed via a mobile web browser.
Alternatives to Roadmunk
Aha!: If you're looking for a tool with a stronger emphasis on ideation and feature prioritization, Aha! may be better suited for your needs.
ProductPlan: ProductPlan is often chosen for its simplicity and user-friendly interface, making it suitable for teams that prioritize ease of use.
Trello: For teams looking for a more task-driven, Kanban-style approach to project management, Trello offers a straightforward and visually appealing platform.
Roadmunk Company Overview & History
Roadmunk is a product management software provider that helps organizations create and share strategic roadmaps. It's used by companies across various sectors, particularly in technology and software development. The company operates as a private entity and details regarding ownership are typically reserved for internal stakeholders. Roadmunk's headquarters are located in Toronto, Canada.
Their mission statement emphasizes their dedication to empowering strategic planning with clear visualization and collaboration tools. Since its inception, Roadmunk has achieved milestones such as significant user growth, notable funding rounds, and expansion of its feature set to meet the evolving needs of product managers.
Summary
After a thorough examination, Roadmunk presents itself as a robust tool for organizations seeking to enhance their product management through strategic planning and roadmapping. Its focus on high-level visualization, coupled with the integration of feedback mechanisms, makes it a valuable asset for mid-sized to large teams.
While it may not be the perfect fit for smaller operations or those seeking granular task management, Roadmunk stands out for its specialized approach to product roadmaps. I invite those considering Roadmunk to share their perspectives or experiences, as these collective insights are invaluable for anyone looking to select the right tool for their product management needs.