"You are not the user."
As a product manager or UX professional, this phrase should be top of mind, driving every decision that we make while building and releasing new products, features, or services. But why is it so easy to forget this, even though we work on our product day in and day out?
The truth is, truly understanding your user and tailoring your product to their needs all while meeting the goals of your business leaders is not that simple. For example, it can be challenging to balance the goals of an ad supported business model with site speed and general feature usability.
So how can we as product managers ensure that we are always advocating on behalf of our customers and helping our leadership teams prioritize their needs? A customer empathy map is a great tool to enable you and your team to achieve a deep understanding of current and potential users.
Let's break down what a customer empathy map is and how you can create one for your business.
What Is A Customer Empathy Map?
At their core, customer empathy maps are a methodology that product managers, designers, and engineers use to enhance their understanding of their customers' needs. They provide an easy way to visualize different facets of a user's mindset while using a product.
Customer empathy maps were originally developed by Dave Gray, a leader in the product strategy space. Typically, they are made up of 4 quadrants that cover what a user says, thinks, does, and feels, with a chosen user persona in the center:
Says
In an ideal world, the "says" quadrant contains direct quotes from users that have been documented over time, typically as part of user research studies. This section should capture how past and present customers have expressed themselves either during or after direct usage of your product.
Example:
"I want a feature that allows me to enter my credit card information as fast as possible."
Thinks
The "thinks" section requires you and your team to do some brainstorming. Start by asking "What matters to our user?" and "Why are they considering our tool or service?"
You may find that what is noted in this quadrant is quite similar to the "says" section, but make sure that you are also aware that sometimes users do not always say what they think. They may be reluctant to share their true opinions and pain points, or glaze over topics that they think might offend the researcher or product manager.
Example:
"This process takes way too long."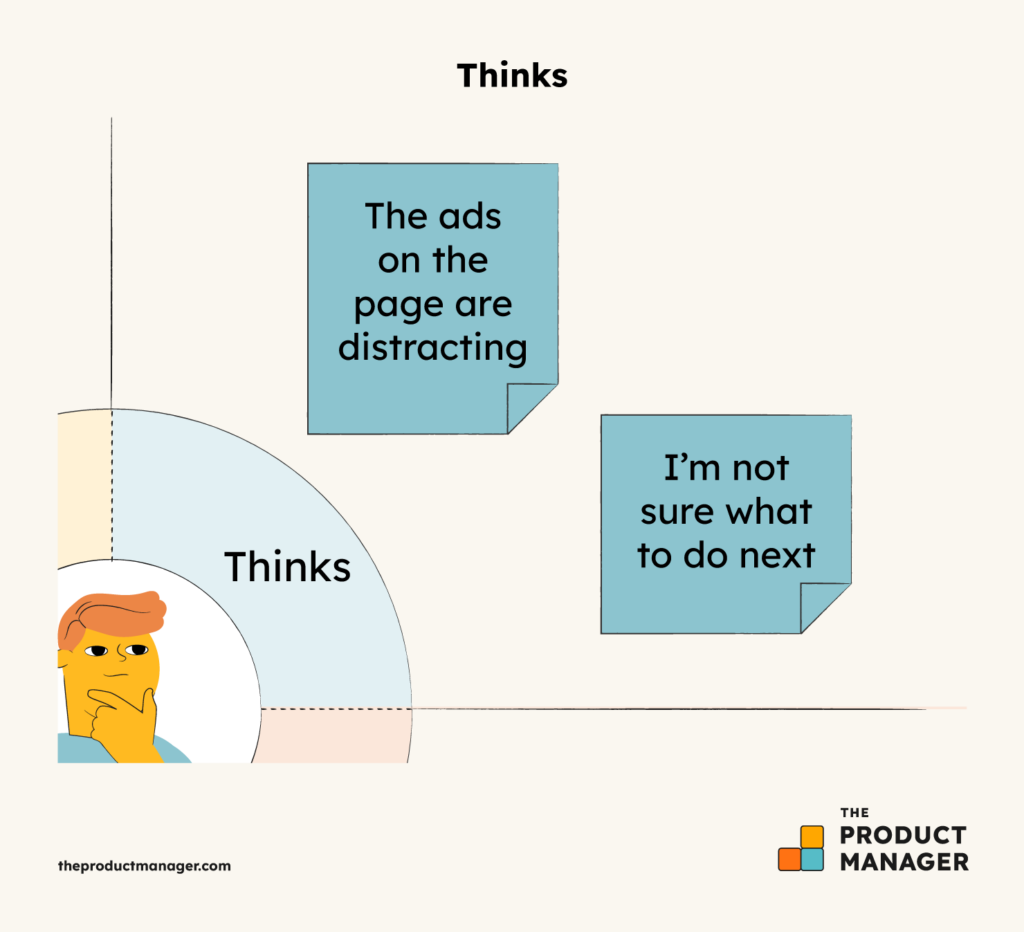 Does
This quadrant documents the specific actions that a customer takes when using your product or feature. Watching live usability interviews or testing can help you understand what to note in this section. Pay special attention to how they navigate within the tool, and how it differs from the way in which you and your team do so on a daily basis.
Example:
"The user opened up a new window to look for additional information."
Feels
Typically when a customer is using a product or feature for the first time, they come away with either a positive or negative feeling about the experience. Go through existing studies that have been conducted on your feature. How do your users feel about your tool? Are they excited to come back and use it again?
Example:
"The pages load really slowly. I wonder if this is indicative of the quality of the product."
Don't be too concerned if you see overlapping notes or trends between quadrants. This is a good thing, as it means that you and your team have a good understanding of the trends in user behavior that connect with your product.
Steps To Create A Customer Empathy Map
So now you know the quadrants and topics that are defined in customer empathy maps. Here is how you can go about creating one with your team. Remember, ideally this should be done collaboratively with multiple types of stakeholders, such as PMs, UX designers, and developers, as this will ensure that you are capturing a wide variety of perspectives on your product and user.
1. Set Goals And Expectations
It's important that you verbalize to your team what your expectations are for your customer empathy map, and how you plan on using it in order to create a better user experience. Set goals that are specific, such as when you will be publishing the finished version, where it will live, and how you plan to incorporate it into your future product planning strategy.
You also want to align on what type of user you are going to be mapping. Is it a specific age group? A new user or returning? Ideally you should create customer empathy maps for each of your known personas, so that you can have complete coverage for your customer journey.
2. Gather Previous Research
Before setting out to create your map, talk to a UX researcher on your team. They will have valuable new insights into previous user research that has been done, and what the overall trends and past design thinking have been for your feature.
Try to incorporate multiple types of studies and customer personas into your documentation, such as user interviews, case studies, qualitative research, and quantitative analysis. Be sure to send these materials to your team members prior to the map creating session.
3. Create Notes For Each Quadrant In An Empathy Mapping Session
While the material used to create the map can vary (some teams like sticky notes, others prefer whiteboards, etc.), allow each team member to create notes for each of the 4 quadrants you include in your map.
It can be useful to first do a quick run through of what a customer empathy map is so that your team has the proper context and mindset before brainstorming.
4. Cluster Your Results
It's highly likely that multiple team members will have similar or matching notes to place in each quadrant. This is a positive sign that you are moving towards an understanding of your user as a group. Create and write down high level themes for each of these groupings or clusters, and discuss why they are related as you group them.
This can also be a good time to note any gaps in your previous studies, and you can document areas that you would like user researchers to study further in the future.
5. Publish And Socialize
Once you and your team are done with documenting notes in each quadrant, digitize and share the outcome as soon as possible. Be sure to include any open questions that came up during the session, as well as what the next steps are for the empathy map to drive better product development. Reiterate your initial goal for the customer empathy map.
Customer Empathy Map Example
Here is an example of a simple customer empathy map for a specific individual user: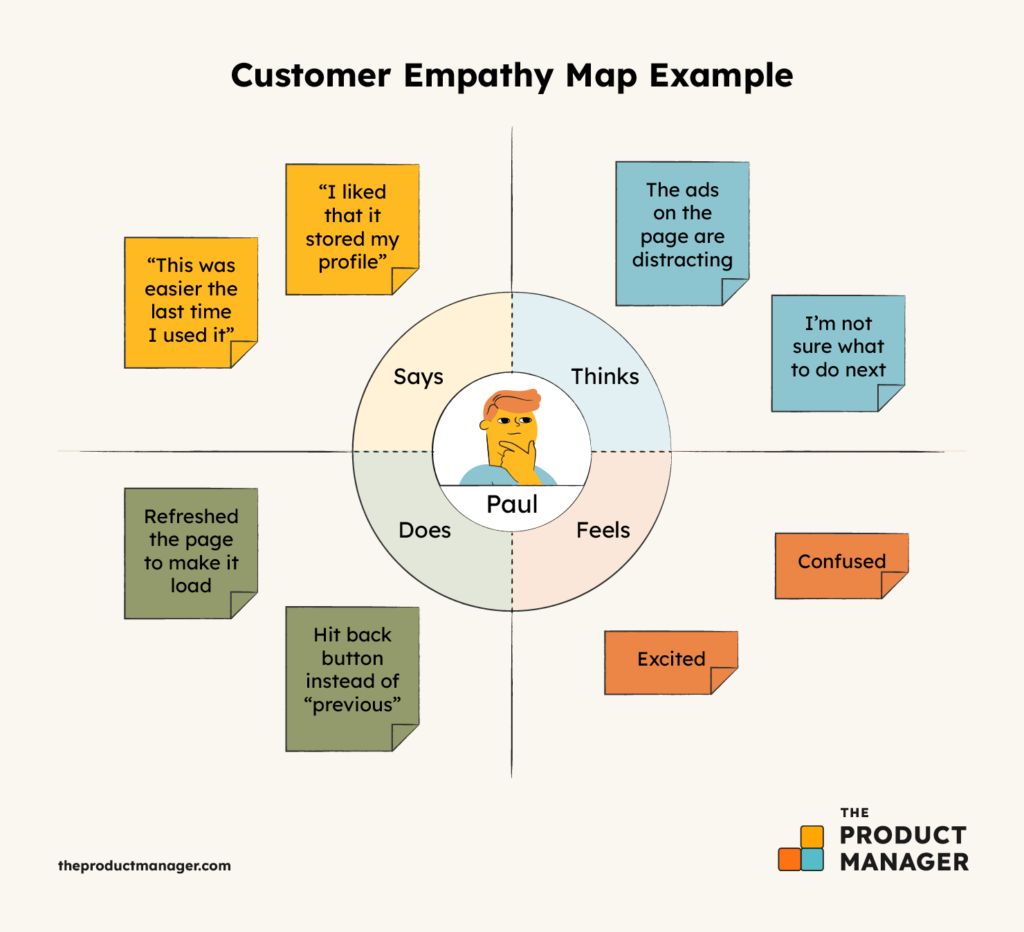 The Takeaway
Customer empathy maps are a great collaborative tool that can serve as a visual reminder of your user's mindset as they encounter your product or service, and can help product teams gain a deeper understanding into the various personas and ideal customers that they are trying to attract.
Be sure to update your maps as your user sets and features expand, so that you are always prepared to let your customers' needs drive your future product development.
Subscribe to the Product Manager newsletter for more expert insights and tips.
Related List of Tools: User Tracking Software
Sources:
The Mind Tools Content Team. (2019). Empathy mapping: Understanding targeted groups.
Rathore, S. (2017, May 15). #5 easy steps to create customer-empathy map for your business.
Empathy map template: What is it & how to do empathy map planning. (2020).